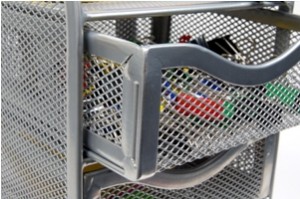 Have you ever heard the phrase… The cobbler's children have no shoes? This was the case when I met a home organizer at a networking meeting. She was a whiz in someone else's house, but she was desperate to do something about her office. With her busy schedule, she was never able to get around to her office.
We worked our way around the office. Clearing out what wasn't needed. Rearranging the furniture to open up the office and create a more usable space. This initial reorganization was achieved over a few visits, but the continual organization is ongoing. Once the physical environment was in order, it now only took a weekly maintenance visit to open mail, pay bills, and keep up the filing for receipts and other pertinent information.
This new organization has allowed my client the freedom to meet with new clients, take on more projects, and stay on top of her billing and receivables. On more than one occasion, she has expressed her gratitude for the time and money she has saved, not to mention her sanity.